Coratec sandwich panels for
Developer
We support you already in the development phase with our know-how, with engineering and with prototyping. Together we develop solutions tailored to your needs.
Are you looking for functional sandwich panels with properties adapted to your application? As a developer and manufacturer of sandwich panels, we can meet your needs in terms of surface, strength, weight, fire protection, functionality, interfaces and coatings. We can supply you with individual pieces for your product development as well as series production manufactured on schedule. With our expertise, perfectly equipped infrastructure and short communication channels, we make our contribution to your success.
As cover layers we process aluminium and GRP, as well as other materials according to customer requirements. We have aluminium in various colours and widths in stock.

Our speciality is the production of sandwich panels with our own core material Coracel®, which is also used in our Corapan® products. When compressed and hardened, the initially free-flowing material forms a cellular framework of PU that is similar to the structure of bone.
COMPARED TO OTHER CORE MATERIALS, THE ADVANTAGES ARE AS FOLLOWS:
One panel, one core: Up to a format of 6000 x 2200 mm, panels can be produced with a continuous core. In contrast to panels with prefabricated cores, this results in panels with perfect surface quality without weak spots.

Inserts: Because the material is free-flowing before compaction, inserts can be "poured in". This is efficient because the core material does not have to be milled separately and leads to a complete integration of the insert with the best possible bonding to the core.

High bending stiffness: Sandwich panels with Corapan core are particularly bending stiff

Efficiency in production: The production of the core, the insertion of inserts and the bonding to the face layer is done in one production step.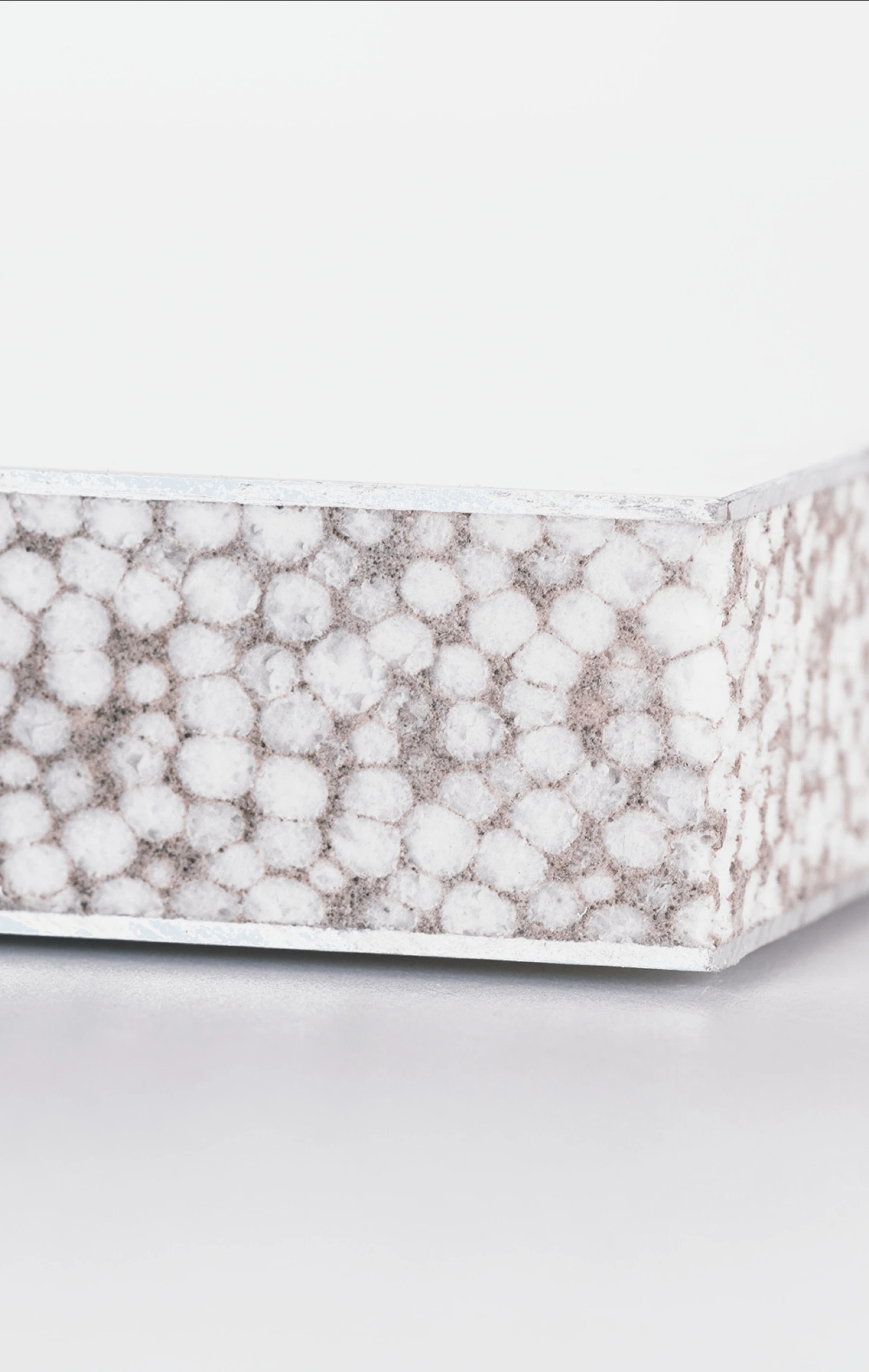 If your requirements are better met with other materials, we also process PET and XPS cores as well as aluminium and other honeycombs.
Turn the simple sandwich panel into a multifunctional element with inserts. There are practically no limits to the insertion of inserts. They are usually used as reinforcements, cable ducts or fastening points for hinges and locks. However, more complex inserts such as heaters, cooling systems, lighting, vacuum boxes, etc. can also be inserted.
We apply the anti-slip coating on our balcony floors ourselves. We have the experience, the know-how and the network for the development of new coatings as well as for the production of the coatings in series. We are therefore happy to offer them both panels and the matching coating.
DO YOU NEED SUPPORT IN PROTOTYPING?
Short learning cycles are important for making rapid progress in product development. With our test facility, we can produce prototypes and test samples quickly and flexibly outside of ongoing production. This allows us to support your development project in the best possible way.
WE DO THE QUANTIFICATION!
With our universal testing machine, we quantify mechanical properties of sandwich panels such as bending stiffness, shear modulus, compressive strength and pull-out forces of rivets or threaded sleeves. Contact us, we will be happy to advise you.