CORATEC SANDWICH PANELS FOR
Processor
Our sandwich panels are used in the construction, automotive and industrial sectors for many different applications. We can help you choose the right product.
We develop and produce high-quality sandwich panels that are particularly suitable for applications in vehicle construction or as façade, wall, ceiling, floor or door elements in the building industry. Our long company history gives us a lot of expertise and experience to react quickly to your requirements.
We manufacture exclusively to order. Be it raw sandwich panels or ready-to-install, functional elements with customised surfaces, inserts and edge closures. With our flexible manufacturing process, many things are possible.
OUR CUSTOMERS CHOOSE US BECAUSE OF THE FOLLOWING ADVANTAGES:
Large format on the road: We offer large format panels up to a width of 2200mm with perfect surface quality.

Special surfaces: Customised lacquering or chrome steel top layers are no problem for us.

Inserts: Mostly they are used as reinforcements, cable ducts or fixing points for hinges and locks. However, more complex inserts such as heaters, cooling systems, lighting, vacuum boxes, etc. are also inserted.

High stability: Sandwich panels with a Corapan core are particularly resistant to bending.

Durability: The composite panels are extremely weather-resistant and robust, so that they have proven their worth over many years.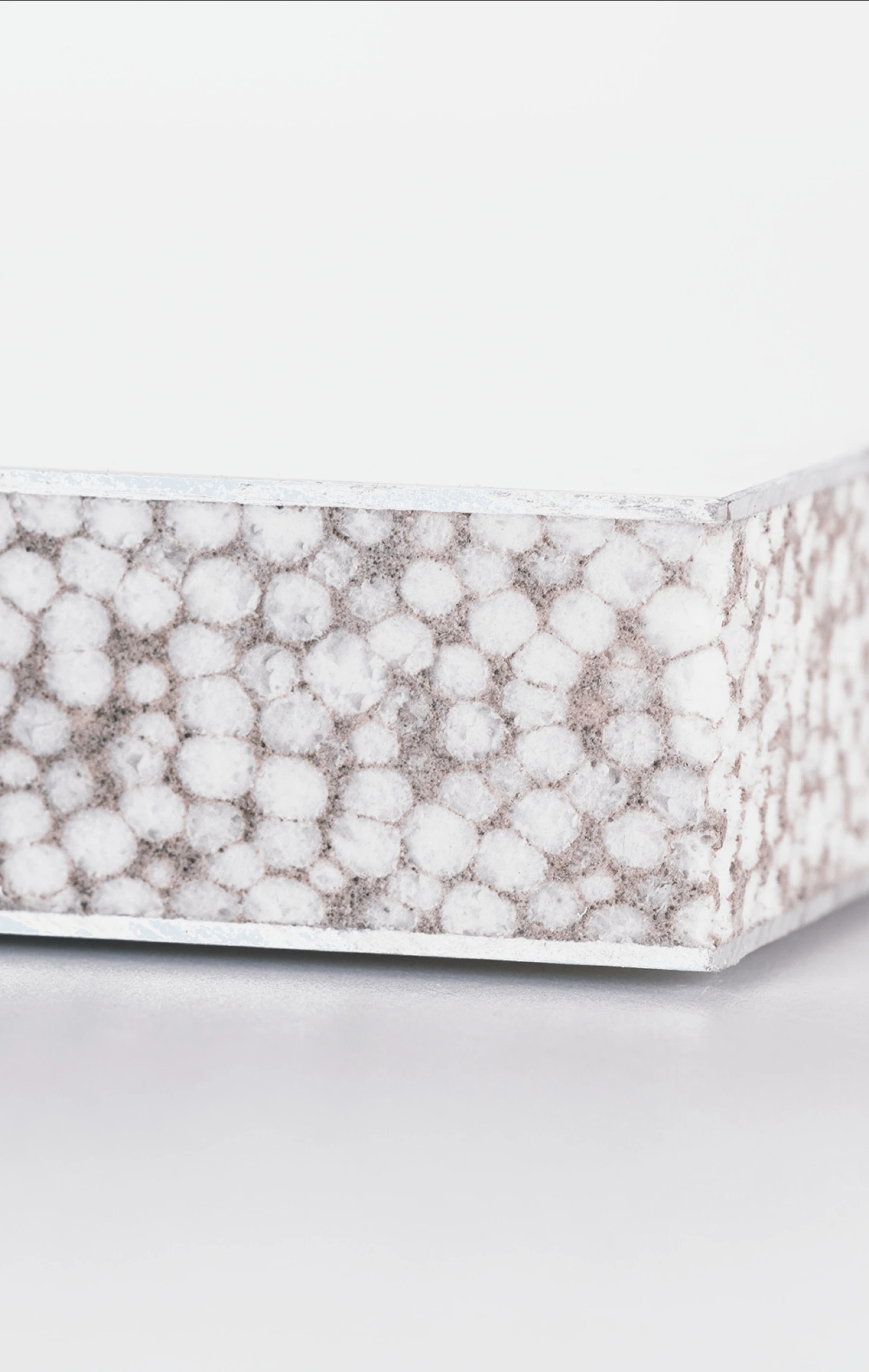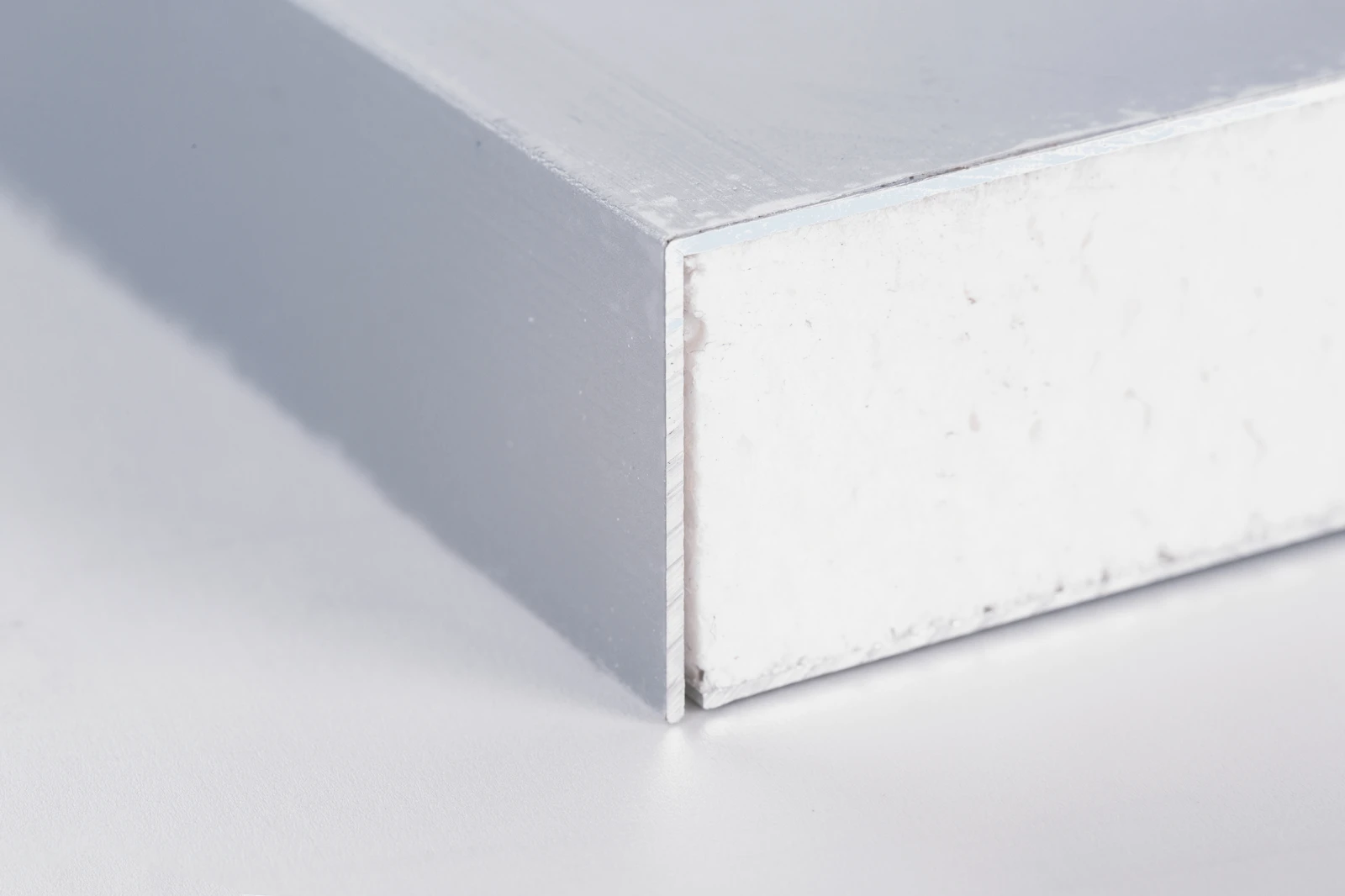 THIS IS WHERE OUR STRENGTHS LIE:
Vehicle construction (bar trailers, horse transporters, expedition vehicles, truck flaps)

Supporting floor panels for balconies

Roof soffits

Roofs for canopies, carports, garden seating areas, bus stops, etc.

Dividing walls

Door panels for doors and gates
TIPS FOR THE PROCESSING OF SANDWICH PANELS
We have the infrastructure and an excellent network of suppliers to offer you completely machined products. If you would like to carry out a part or the complete machining yourself, you will find information and tips on how to do so here.
Machining
Most machining operations are possible with the usual cutting tools. Cutting edges tipped with carbide have a significantly longer service life. With CORAPAN® GRP, minor edge breakage is possible on the glass-fibre reinforced plastic laminates. For decorative cuts, diamond-tipped cutting tools should be used.
Almost all common workshop machines and many hand tools are very suitable for sawing, milling and drilling the composite elements.
Screwing into the face sheet
Riveted or screwed joints and fastenings have the same strength values as those in other sheets of the same thickness. Adhesion can be improved considerably by additional bonding of the joint parts.
Inserting profiles and edge trims
For anchoring or as edge protection, the panels can be fitted with aluminium or plastic profiles. When gluing the profiles, care must be taken to ensure that the joint is made with at least one top layer. If profiles are to be fixed to the inner side of the face layer, they can be glued in place with a two-component adhesive based on PUR or epoxy resin after local removal of the core material with drills or cutters . In general, contact of honeycombs and core material with aggressive solvents and cleaning agents should be avoided.
Painting/Labelling
The surfaces supplied by us EPOXY PRIMER and painted with polyester systems can be subsequently coated with wet paints or with digital prints or labelled with foils.
Polyester painted surfaces must first be lightly sanded and then cleaned free of grease. An additional primer to improve the visual quality or the adhesion of the topcoat may be expedient. In general, contact of honeycomb and core material with aggressive solvents and cleaning agents should be avoided. Accelerated drying can be carried out at max. 80° C.

OUR COIL-COATED ALUMINIUM TOP COATS
For our products we have a selection of coil-coated aluminium cover sheets with different colours on PVDF and POLYESTER basis. Coil painting has various advantages over alternative processes:
Quality: Coil coating guarantees an even and smooth coating, whereas wet or powder coating of large surfaces runs the risk of orange peel, colour runs or dirt inclusions.

Reproducibility: Thanks to the controlled coating process, colour differences between independent coating batches are minimal.

Corrosion resistance: Before coil coating, the aluminium coils pass through various cleaning stages. This prevents contamination under the colour coating, which prevents subsequent colour detachment due to corrosion in the contaminated area.

Environmentally friendly: Coil coatings are environmentally friendly. The processes with solvent emissions take place in separate, controlled rooms. The manufacturer complies with current EU directives. In addition, coil-coated aluminium sheet is fully recyclable. It can be handed in at any collection point for subsequent melting and reuse.